OPSA™
ON-LINE PARTICLE
SIZE ANALYZER

OPSA™

OPSA™ software is completely developed in house at MTI, as all of our products! No third party GUI. No third party image processing routines. Completely customizable according to your needs.
Fast. Typical processing time is 4 sec./image in a 500 MHz Pentium machine, including all processing steps, from acquisition to output.
Morphological segmentation, optimized for maximum speed and reliability. No need to discard images, ever; our morphological segmentation converges every time, and is suitable for detecting fines.
Fast background correction. Good performance under almost any lighting conditions.
Stereological correction for size distribution: no empirical measurements and no need to identify features individually. No slow, time consuming area measurement.
Multiple channels. Up to 6 sampling points can be managed per instance of OPSA™.
Frame grabber interfaces built to order, or just use one of the already built-in interfaces for VideoPort Pro™, Sensoray™ and DataTranslation™ frame grabbers.
Runs on all flavors of Windows, 95, 98, 98SE, 2000, NT, and also Linux.
Runs on both Desktop and Laptop systems.
USER-FRIENDLY INTERFACE

Particle size analysis from acquired images starts with the definition of the best sequence of image processing operations to ensure proper feature identification. OPSA™ offers a complete GUI for image processing, with an extensive menu of processing routines. This ensures that all possible processing routes are properly tested and compared before on-line processing ever starts.





MULTIPLE CHANNELS FOR MULTIPLE SAMPLING POINTS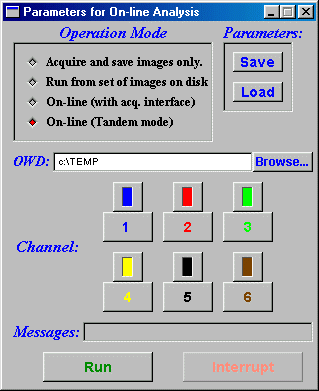 Each instance of OPSA™ can handle up to six sampling points. This allows the sequential monitoring of the size distributions in the feed of four SAG mill feed lines, together with crusher product and screen oversize at the crushing plant, just as an example.

Each sampling point or camera can be set-up with completely different processing parameters, processing sequence, number of images, and scale, with the best set of parameters for each sampling location at all times.

OPSA™ can also be ran in tandem with existing imaging systems already at your plant without customization, allowing for easy integration with any machine vision system that you may already be using. On multiple channels as well!








PARAMETERS

Each channel or sampling point can be set-up with its own set of processing parameters. This includes:
Interactive scale setting.
Background correction, allowing operation with just about any type of lightning.
Elimination of artifacts with Euclidian Distance Map based routines.
Choice of several processing routines, and combinations there off.
Up to 11 sizes per size analysis.
Size analysis output at arbitrary sizes specified by user.
Variable number of images per analysis. Output can be for one image, or for an average of up to 20 images acquired sequentially.
Acquisition can be delayed according to conveyor speed so sampling is always optimum.
And more...
DATA OUTPUT



Real time graphical, tabular and text outputs display size analysis results quickly and clearly. All output can be easily manipulated, pasted into reports, and imported into Excel™. Historical information, including images, size distributions, D80, D50 and D25 can be saved periodically in an archive database for performance evaluation . ASCII format output allows for easy interfacing with your PLC. Data from OPSA™ can be easily incorporated in any existing control system.





FEATURES


OPSA™ is an effective solution for your on-line particle size control needs:

Is affordable, fully interactive and user-friendly.
Represents over 10 years of R&D validated by numerous plant tests.
Is designed for convenient and intuitive operation for ease of learning: basic user proficiency is achieved in less than one hour.
Requires no special training in image analysis and processing.

BENEFITS

OPSA™ powerful and versatile capabilities make it the perfect machine vision tool for quarry operators, coal processors, base metal and industrial mineral producers, pellet plants and more.
OPSA™ is a very cost effective solution for better process control.
SYSTEM REQUIREMENTS

Pentium® PC - Windows 95, 98 or NT, 2000 - 32MB Ram Memory - 50MB disk space.

SUPPORT

Phone, fax and email support as well as software upgrades are available at no cost for one year. Other support agreements can be arranged.
On-site training and workshops are available upon request.
Mineral Technologies, Inc. provides hardware specifications and recommendations for use with OPSA™.
Mineral Technologies, Inc. provides installation services for OPSA™ systems.
DEMO

Contact MTI to arrange for a demonstration.
Download the demo version of OPSA™ 1.10.9 (16.4 Mb).

Contact MTI to obtain the necessary password to install the demo.
© 1998-2008 Mineral Technologies International, Inc. All rights reserved.
Windows is a registered Trademark of Microsoft Corporation.